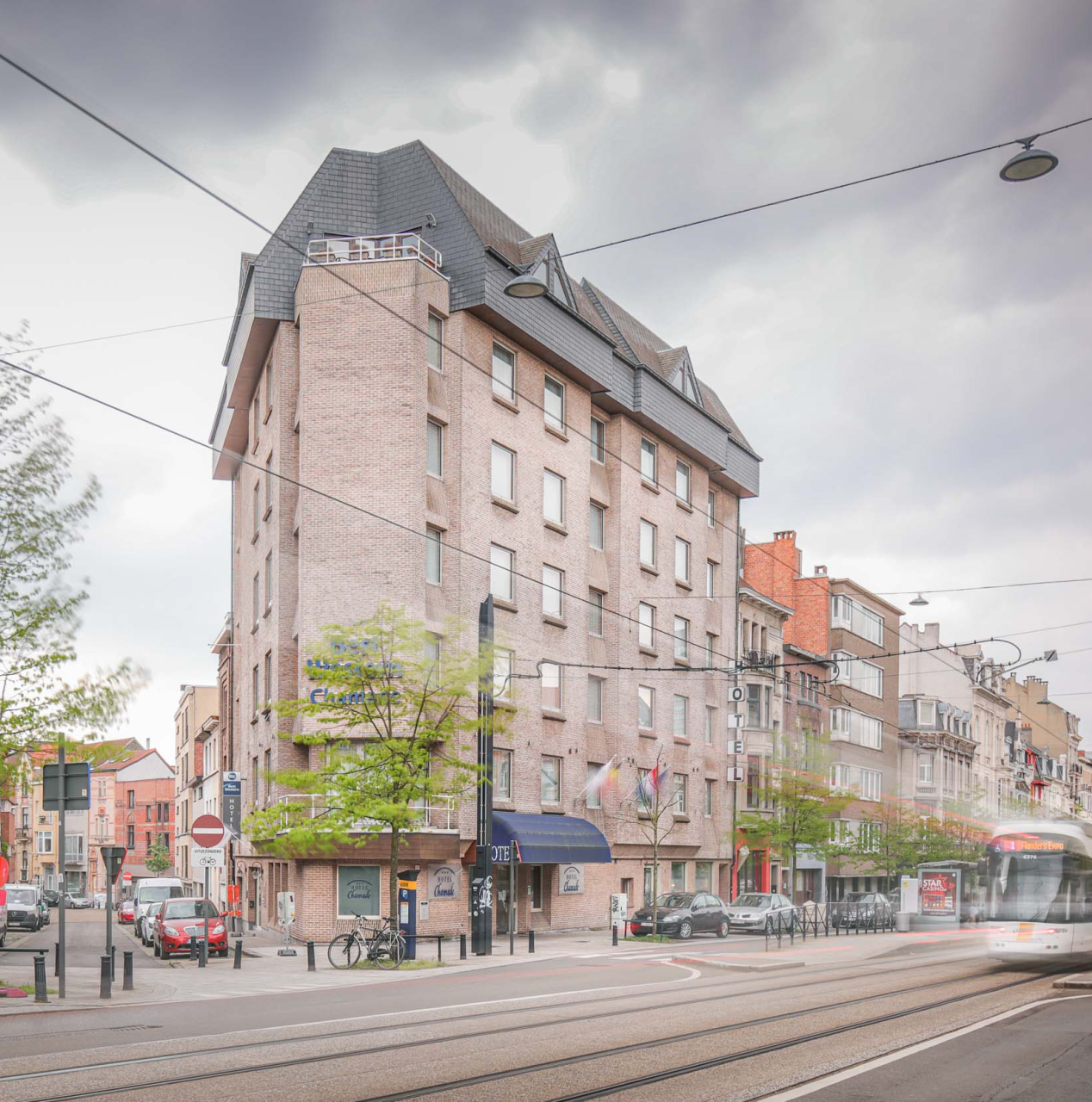 Hotel Chamade
Hotel Chamade is a 3-star hotel located in a residential area of Ghent, nearby the Sint-Pietersstation and within walking distance of the historical center of Ghent. With tram line 1 you are in 10 min. at the historic city center or at Flanders Expo.

Hotel Chamade is located near the ICC Convention Center.
Double room
Twin room
Triple Room
Single Room
Each  double room has a big bed and is air conditioned. In the bathroom there's a shower or bath. The room has got free Wi-Fi, flat-screen TV and a mini-bar. There's also a kettle and unlimited use of coffee and tea.
Each twin room has 2 single beds and is air conditioned. In the bathroom there's a shower or bath. The room has got free Wi-Fi, flat-screen TV and a mini-bar. There's also a kettle and unlimited use of coffee and tea.
Each  triple room has a 3 separate beds and is air conditioned. In the bathroom there's a bath. The room has got free Wi-Fi, flat-screen TV and a mini-bar. There's also a kettle and unlimited use of coffee and tea.
Each single room has a single bed and is air conditioned. In the bathroom there's a shower. The room has got free Wi-Fi, flat-screen TV and a mini-bar. There's also a kettle and unlimited use of coffee and tea.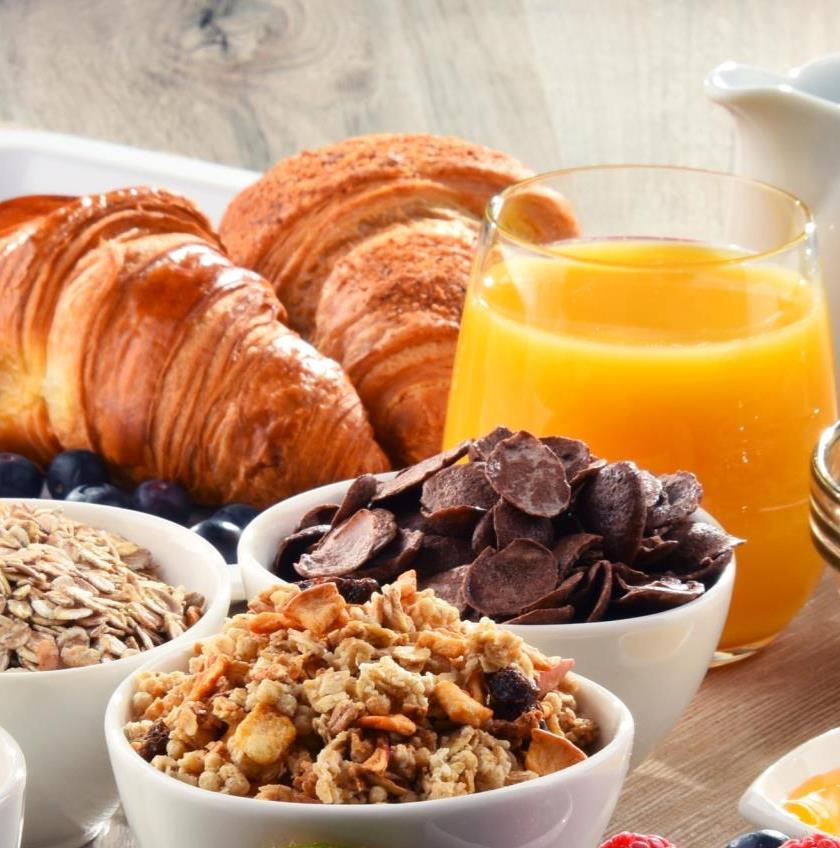 Breakfast
We serve freshly baked eggs, prepared in our own kitchen. We cut fresh fruit for a delicious fruit salad and the bread comes from the local bakery. For our breakfast buffet we use fresh and seasonal products.
When choosing our products, we opt for local products and quality brands as much as possible. Please let us know if you have any allergies or intolerances.
Our breakfast room is located on the top floor, which also gives you a view of the city!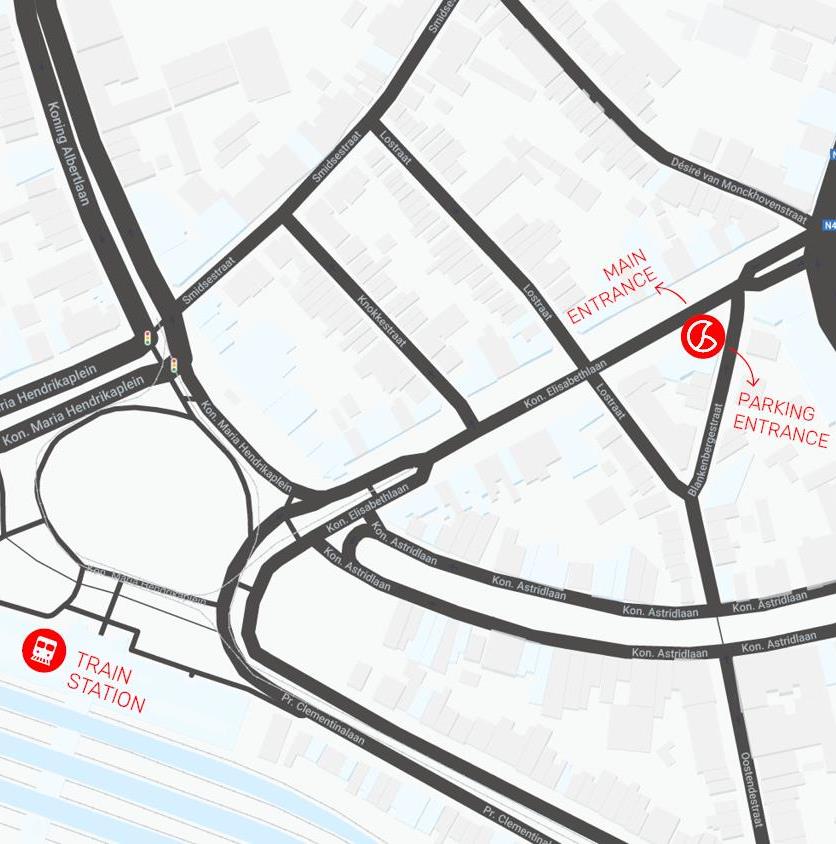 Parking
We have an underground car park with 6 places, only suitable for standard cars not higher than 1.75m. A parking place costs €15 per night.

Reservation is necessary due to the limited number of places.

Around the hotel there's is public, paid parking. You can park for free in the street every day from 7 pm. until 9 am. During the day the cost is €1,5 per hour. There is also free parking in the street on Sundays and bank holidays.

You can also choose to park in the underground car park of Gent Sint-Pietersstation, which is only a 5-minute walk from the hotel. The address is Sint-Denijslaan 244, 9000 Ghent.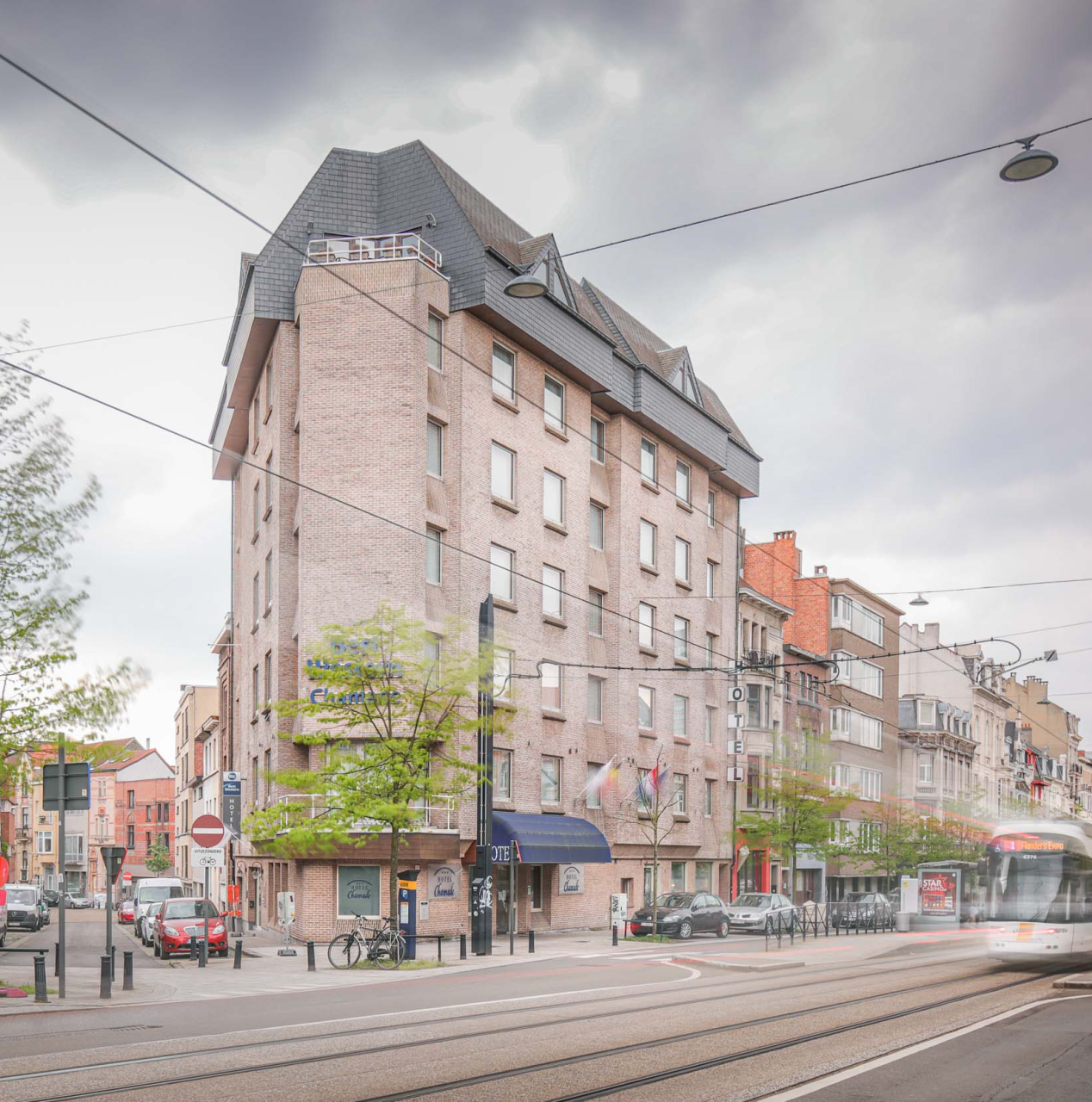 Practical
We've got all information you need to start exploring Ghent.
At check-in we give you a free citymap and cityguide.

Our official check in time is from 14.00h to 23.00h. If you plan to arrive after 11pm please contact us in advance via e-mail. This will allow us to properly forward instructions on how to enter the hotel after closing time. You can also store your luggage before arrival time and we will make sure it is placed safely in your room.

Free luggage storage on your check-out day is possible.

Address
Hotel Chamade
Koningin Elisabethlaan 3
9000 Gent, Belgium
Directions
Email
Telephone
Booking terms and conditions
CANCELLATION POLICY

FOR INDIVIDUAL RESERVATIONS – FLEXIBEL
The overnight stay costs will be charged directly. However, you can cancel your reservation free of charge up to 24 hours before arrival (3:00 PM, local time). In case of cancellation within this period, we will refund the already charged amount as quickly as possible.
If you cancel less than 24 hours before arrival (local time, 3:00 PM), the first night will be charged. In the event of a no-show, we will be obligated to charge the entire stay.

FOR INDIVIDUAL RESERVATIONS - NON REFUNDABLE
The overnight costs will be charged immediately and cannot be canceled or changed thereafter.
Why would I choose a non-refundable rate?
By giving up flexible cancellation and having the reservation charged immediately, we offer you a discount! The non-refundable rate is always the most favorable rate available.
Our official check in time is from 14.00h to 23.00h. If you plan to arrive after 11pm please contact us before via e-mail. This will allow us to properly forward instructions on how to enter the hotel after closing time. You can also store your luggage before arrival time and we will make sure it is placed safely in your room. Free luggage storage on your check-out day is possible.

If you prefer a spot in our private garage, please make reservations in advance since availability is limited. The fee is €15 per night for a spot.
Privacy and cookie policy
Your privacy comes first. This privacy statement applies to 1) our website www.chamade.be (hereinafter referred to as the "Website") and 2) to all (commercial) relationships between Chamade hotel and its customers, prospects and business partners.

Chamade hotel always tries to act in accordance with the Belgian Privacy Act of 8 December 1992 for the protection of privacy with regard to the processing of personal data and on the other hand the EU Regulation of 2016 concerning the protection of natural persons with regard to the processing of personal data concerning the free movement of such data and repealing Directive 95/46 / EC, better known as GDPR. This Privacy Statement contains, among other things, information about the personal data that Chamade hotel collects, as well as the way in which Chamade hotel uses and processes this personal data.
Visiting the Chamade Hotel website implies your explicit approval (by means of communication of your personal data or e-mail confirmation (opt-in)) of the Privacy Statement and thus of the way in which we collect, use and process your personal data.
Types of personal data
Chamade hotel can collect and process the following personal data:
• Name
• First Name
• Home address
• Company Address
• E-mail address
• Telephone number (fixed / mobile)
• Date of birth
• Passport number / identity card number
• User name
• Password
• Company Name
• Information regarding the use you make of the Website, (such as but not limited to IP address, browser type, the web page you visited when you gained access to the Website)
• Communication preference
• Correspondence information with and based on Chamade hotel
Chamade hotel also automatically collects anonymous information regarding the use you make of the Website. For example, Chamade hotel will automatically log which parts you visit from the Website, which web browser you use, which website you visited when you got access to the Website, and what your IP address is. We can not identify you on the basis of this information, but it allows Chamade hotel to compile statistics on the use of the Website, as well as to provide more targeted communication.

Method of collection of personal data
This personal data is collected at resp. in the context of:
• Creating an account on the Website
• A collaboration with CHAMADE HOTEL
• Visit of the Website
• Completing contact and other forms
• Registering for the newsletter (whether or not via the Website)
• Verification of your identity (eg when you call on the CHAMADE HOTEL customer service)
• Correspondence with and based on Chamade hotel
• Communicating to CHAMADE HOTEL ideas about improving services
• Requesting a quote
• The exchange of business cards
The personal data collected by CHAMADE HOTEL are thus expressly and voluntarily provided by you.
Use personal data
CHAMADE HOTEL may use your personal data for:
• The production account and its confirmation
• The execution of an agreement with CHAMADE HOTEL
• Delivering the services of Chamade hotel
• Providing support / customer service
• Sending targeted marketing and advertising, updates and promotional offers based on your communication preference
• Sending invoices and the collection of payments
• Optimizing the quality, management and content of the Website
• Statistical purposes
• The layout of a quotation
• Conducting customer satisfaction surveys, surveys and other market studies
Disclosure of personal data to third parties
CHAMADE HOTEL will not disclose your personal information to third parties unless it is necessary for the provision of the services of CHAMADE HOTEL and the optimization thereof (such as but not limited to maintenance work, payment processing, database management). If it is necessary for CHAMADE HOTEL to disclose your personal information to third parties in this respect, the third party in question is obliged to use your personal data in accordance with the provisions of this Privacy Statement.
Notwithstanding the foregoing, it is possible that CHAMADE HOTEL may disclose your personal information:
• To the competent authorities (1) when Chamade hotel is obliged to do so by law or in the context of judicial or future court proceedings and (2) to safeguard and defend our rights;
• When Chamade hotel or almost all of its assets are taken over by a third party, in which case your personal data - which Chamade hotel has collected - will be one of the transferred assets;
• With a view to detecting similar profiles such as yours, unless you have explicitly opposed this.
• In all other cases, Chamade hotel will not sell, rent or pass on your personal data to third parties, unless it has obtained your permission (1) and (2) has concluded a data processing agreement with the third party concerned, which contains the necessary guarantees. regarding confidentiality and privacy conformity of your personal data.
Storage of personal data
Unless a longer retention period is required or justified (1) by law or (2) by compliance with another legal obligation, Chamade hotel only stores your personal data for the period necessary for the achievement and fulfillment of the goals, as described in the Privacy Statement under 'use personal data'.

Your privacy rights
If you wish to appeal to your privacy rights, as specified below, please contact info@Chamadegent.be:
• Right of access to the personal data that Chamade hotel may have about you;
• Right to rectification, completion or update of your personal data;
• Right to delete your personal data ('right to be forgotten');
• Right to a limitation of the processing of your personal data;
• Right to transfer your personal data;
• Right of objection / opposition to the processing of your personal data.
You can in principle exercise these rights free of charge. You can also use your account to update, change and / or verify your personal data - which you had to provide when you created your account.
Security of personal data
Chamade hotel undertakes to take reasonable, physical, technological and organizational precautions with a view to preventing 1) unauthorized access to your personal data, as well as 2) loss, misuse or alteration of your personal data.
Chamade hotel will store all personal data it has collected in a secure environment.
Notwithstanding Chamade's security policy, the controls it carries out and the actions it imposes in this context, an infallible level of security cannot be guaranteed. No method of transfer or retransmission via the Internet nor any method of electronic storage is 100% secure, so CHAMADE HOTEL cannot guarantee absolute safety in this context.
Finally, the security of your account will also depend on the confidentiality of your password. CHAMADE HOTEL will never ask for your password, so you are not obliged to communicate this yourself. If you have communicated your password to a third party - for example because this third party has indicated that you will provide additional services - this third party will gain access to your account and your personal data via your password. In that case you are personally responsible for the actions that are taken by the use made of your account. CHAMADE HOTEL strongly advises you when you determine that someone has taken up your account to change your password immediately and contact us.
Update Privacy Statement
CHAMADE HOTEL is entitled to update this Privacy Statement by posting a new version on the Website. It is advisable to consult regularly the Website and the relevant page on which the Privacy Statement is displayed, to be sure that you are aware of any changes.
Other websites
The Website may contain hyperlinks to other websites. Under no circumstances is CHAMADE HOTEL responsible for the privacy policy or privacy practices of any third party.

Complaints
If you have complaints regarding the way CHAMADE HOTEL collects, uses and / or processes your personal data, you can submit a complaint to the Privacy Commission.

Recruitment statement
• By sending your CV or other personal information to us in response to a vacancy or in the context of a spontaneous application, you confirm that we may use and transfer data as described in this privacy policy.
• You may provide us with personal information regarding training, employment, contacts, preferences, professional qualifications and jobs when you submit an application. We encourage you not to disclose sensitive personal information (such as height, weight, religion, philosophical or political beliefs, financial data, sexual orientation, union or political party membership) in your CV or other materials to support your application. Insofar as you provide sensitive personal information, you expressly allow Hotel Chamade to treat such details as specified in this Statement.
• We will use your personal information for recruitment purposes and if you are offered a job or enter into the service of Hotel Chamade we will use it for other work-related purposes.
• We may also retain your information after the recruitment process has been completed in order to contact you about potential future opportunities for a period of three years from the date of your application. However, we may retain your data in an anonymous form for longer periods for statistical purposes.

Cookie policy
CHAMADE HOTEL uses cookies to improve the user experience (for example remembering a language choice, etc.) and for the collection of web statistics about the visitors to the website www.Chamadegent.be (hereinafter the "Website").
What are cookies?
A cookie is a text file that is placed by the server of a website in the browser of your computer or on your mobile device when you consult the website. The cookie contains a unique code that allows you to recognize your browser during the visit to the website (a so-called 'session' cookie) or during subsequent, repeated visits (a so-called 'permanent' cookie). Cookies can be placed by the server of the website you are visiting or by partners with whom this website cooperates. The server of a website can only read the cookies that he has placed himself, he has no access to other information that is on your computer or mobile device. Cookies are stored on your computer or mobile device in the folder of your browser. The content of a cookie usually consists of the name of the server that placed the cookie, an expiry date and a unique numeric code.
Cookies generally make the interaction between the visitor and the website easier and faster and help the visitor to navigate between the different parts of a website. Cookies can also be used to make the content of a website or the publicity on a website more relevant to the visitor and to adapt it to his personal taste and needs.
Use of cookies on the website of the website owner
1. Necessary cookies
These cookies are indispensable to visit the Website and to use certain parts of it. These cookies allow you, for example, to navigate between the different parts of the Website. If you refuse these cookies, certain parts of the Website will not work or will not work optimally.

2. Functional cookies
The functional cookies are the cookies that facilitate the functioning of our Website and make it more pleasant for the visitor and ensure that you get a more personalized browsing experience. For example, it is the cookies that remember your language preference and your client segment, as well as the cookies that, for example, keep track of whether you have already been asked to participate in a survey so that we do not submit the same survey every time.

3. Performance cookies
We use performance cookies to collect information about the use that visitors make of our Website in order to improve the content of our Website, to adapt it more to the wishes of the visitors and to increase the user-friendliness of our Website.

4. Third party cookies
Our Website may also contain elements from other third parties, now or in the future, such as video services, social media buttons and / or advertisements.

Management of cookies
You can set your browser to notify you when a cookie is placed or cookie collection is not possible.
If you make it impossible to place cookies, there is a chance that certain functions of the Website will not work or that you will not be able to use certain services of the website owner.
We do not use cookies to personally identify you or to store personal information about you without your knowledge. However, if you wish to limit, block or delete the installation of cookies on your computer or mobile terminal, you can do so via your browser settings. Go to the HELP function of your browser. There you can read how to do this.
Contact CHAMADE HOTEL
If you have any questions about the Privacy Statement or how CHAMADE HOTEL collects, uses or processes your personal data, please contact us:
1. Via e-mail: info@chamade.be or
2. By post: CHAMADE HOTEL - Koningin Elisabethlaan 3 - 9000 Gent



Website - Terms and Conditions of Use Agreement
PLEASE READ THE TERMS AND CONDITIONS OF USE CAREFULLY BEFORE USING THIS SITE. We maintain this web site as a service to our customers, and by using our site you are agreeing to comply with and be bound by the following terms of use. Please review the following terms and conditions carefully, and check them periodically for changes. If you do not agree to the terms and conditions, you should not review information or obtain goods, services or products from this site.

1. ACCEPTANCE OF AGREEMENT
You agree to the terms and conditions outlined in this Terms and Conditions of use Agreement ("Agreement") with respect to our site (the "Site"). This Agreement constitutes the entire and only agreement between us and you, and supersedes all prior or contemporaneous agreements, representations, warranties and understandings with respect to the Site, the content, products or services provided by or through the Site, and the subject matter of this Agreement. This Agreement may be amended by us at any time and from time to time without specific notice to you. The latest Agreement will be posted on the Site, and you should review this Agreement prior to using the Site.
2. COPYRIGHT
The content, organization, graphics, design, compilation, magnetic translation, digital conversion and other matters related to the Site are protected under applicable copyrights, trademarks, registered trademarks and other proprietary (including but not limited to intellectual property) rights. The copying, redistribution, use or publication by you of any such matters or any part of the Site is strictly prohibited. You do not acquire ownership rights to any content, document or other materials viewed through the Site. The posting of information or materials on the Site does not constitute a waiver of any right in such information and materials.
3. LIMITED RIGHT TO USE
The viewing, printing or downloading of any content, graphic, form or document from the Site grants you only a limited, nonexclusive license for use solely by you for your own personal use and not for republication, distribution, assignment, sublicense, sale, preparation of derivative works or other use. No part of any content, form or document may be reproduced in any form or incorporated into any information retrieval system, electronic or mechanical, other than for your personal use (but not for resale or redistribution).
4. EDITING
Deleting and Modification. We reserve the right in our sole discretion to edit or delete any documents, information or other content appearing on the Site, including this Agreement, without further notice to users of the Site.
5. INDEMNIFICATION
You agree to indemnify, defend and hold us and our partners, attorneys and staff harmless from any liability, loss, claim and expense, including reasonable attorney's fees, related to your violation of this Agreement or use of the Site.
6. NONTRANSFERABLE
Your right to use the Site is not transferable. Any password or right given to you to obtain information or documents is not transferable and may only be used by you.
7. DISCLAIMER
THE INFORMATION FROM OR THROUGH THE SITE ARE PROVIDED "AS-IS," "AS AVAILABLE," AND ALL WARRANTIES, EXPRESS OR IMPLIED, ARE DISCLAIMED (INCLUDING BUT NOT LIMITED TO THE DISCLAIMER OF ANY IMPLIED WARRANTIES OF MERCHANTABILITY AND FITNESS FOR A PARTICULAR PURPOSE). THE INFORMATION AND SERVICES MAY CONTAIN BUGS, ERRORS, PROBLEMS OR OTHER LIMITATIONS. WE AND OUR AFFILIATED PARTIES HAVE NO LIABILITY WHATSOEVER FOR YOUR USE OF ANY INFORMATION OR SERVICE. IN PARTICULAR, BUT NOT AS A LIMITATION, WE AND OUR AFFILIATED PARTIES ARE NOT LIABLE FOR ANY INDIRECT, SPECIAL, INCIDENTAL OR CONSEQUENTIAL DAMAGES (INCLUDING DAMAGES FOR LOSS OF BUSINESS, LOSS OF PROFITS, LITIGATION, OR THE LIKE), WHETHER BASED ON BREACH OF CONTRACT, BREACH OF WARRANTY, TORT (INCLUDING NEGLIGENCE), PRODUCT LIABILITY OR OTHERWISE, EVEN IF ADVISED OF THE POSSIBILITY OF SUCH DAMAGES. THE NEGATION OF DAMAGES SET FORTH ABOVE ARE FUNDAMENTAL ELEMENTS OF THE BASIS OF THE BARGAIN BETWEEN US. THIS SITE AND THE INFORMATION WOULD NOT BE PROVIDED WITHOUT SUCH LIMITATIONS. NO ADVICE OR INFORMATION, WHETHER ORAL OR WRITTEN, OBTAINED BY YOU FROM US THROUGH THE SITE SHALL CREATE ANY WARRANTY, REPRESENTATION OR GUARANTEE NOT EXPRESSLY STATED IN THIS AGREEMENT.
8. LIMITS
All responsibility or liability for any damages caused by viruses contained within the electronic file containing the form or document is disclaimed. WE WILL NOT BE LIABLE TO YOU FOR ANY INCIDENTAL, SPECIAL OR CONSEQUENTIAL DAMAGES OF ANY KIND THAT MAY RESULT FROM USE OF OR INABILITY TO USE OUR SITE. Our maximum liability to you under all circumstances will be equal to the purchase price you pay for any services.
9. USE OF INFORMATION
We reserve the right, and you authorize us, to the use and assignment of all information regarding Site uses by you and all information provided by you in any manner consistent with our Privacy Policy.
10. PRIVACY POLICY
Our Privacy Policy, as it may change from time to time, is a part of this Agreement.
11. PAYMENTS
You represent and warrant that if you are purchasing something from us that (i) any credit card information you supply is true, correct and complete, (i) charges incurred by you will be honored by your credit card company, and (iii) you will pay the charges incurred by you at the posted prices, including any shipping fees and applicable taxes.
12. LINKS TO OTHER WEB SITES
The Site contains links to other Web sites. We are not responsible for the content, accuracy or opinions express in such Web sites, and such Web sites are not investigated, monitored or checked for accuracy or completeness by us. Inclusion of any linked Web site on our Site does not imply approval or endorsement of the linked Web site by us. If you decide to leave our Site and access these third-party sites, you do so at your own risk.
13. SUBMISSIONS
All suggestions, ideas, notes, concepts and other information you may from time to time send to us (collectively, 'Submissions') shall be deemed and shall remain our sole property and shall not be subject to any obligation of confidence on our part. Without limiting the foregoing, we shall be deemed to own all known and hereafter existing rights of every kind and nature regarding the Submissions and shall be entitled to unrestricted use of the Submissions for any purpose, without compensation to the provider of the Submissions.
14. RETURN POLICY
Due to the nature of our online site, and the services listed, we Hotel Chamade have a strict NO RETURN policy for any service. No service shall be able to be returned for a like item, or for a cash refund.
15. VENUE
Applicable Law. YOU AGREE THAT ALL ACTIONS OR PROCEEDINGS ARISING DIRECTLY OR INDIRECTLY OUT OF THIS AGREEMENT, OR YOUR USE OF THE SITE OR ANY SAMPLES OR SERVICES OBTAINED BY YOU THROUGH SUCH USE, SHALL BE LITIGATED IN THE CIRCUIT COURT OF BELGIUM.
16. THIS SITE IS CREATED AND CONTROLLED BY HOTEL CHAMADE IN BELGIUM
As such, the laws of Belgium will govern the terms and conditions contained in this Agreement and elsewhere throughout the Site, without giving effect to any principles of conflicts of laws.

Company details
Lekker Lang Slapen BV
Koningin Elisabethlaan 3
9000 Gent

VAT: BE0762 993 981

Bank details
BE73 0018 9979 9560
BIC GEBABEBB
BNP Paribas Fortis